The selection effect of two-way trade in the Melitz model: an alternative approach
This paper studies the influential Melitz model of trade with heterogeneous firms using an alternative, intuitive approach. Contrary to what is often argued, it is an increase in product market competition that drives the bad firms out: with two-way trade, entry by foreign firms is not compensated by a "sufficient" reduction in the mass of surviving firms. To illustrate this, we decompose the total effect of trade in two partial effects: a domesticprofit-reducing effect due to foreign market penetration by the most productive firms; an average-profitreducing effect due to the payment of the fixed export costs. We also provide the new prediction that trade generally leads to (weakly) less entry in the industry. This clarifies key interpretation issues in a prolific literature.
Ce papier propose une approche intuitive du très influent modèle de commerce international avec firmes hétérogènes proposé par Melitz. Contrairement à ce qui est souvent écrit, c'est une concurrence accrue sur le marché des produits qui fait sortir les firmes les moins productives : avec commerce bilatéral, l'entrée par les firmes étrangères n'est pas compensée par une réduction "suffisante" de la masse de firmes qui survivent. Afin d'illustrer ce phénomène, nous décomposons l'effet total du commerce en deux effets partiels : un effet "réduction du profit domestique" dû à l'entrée des firmes les plus productives sur les marchés étrangers ; uneffet "réduction du profit moyen" dû au paiement des coûts fixes d'exportation. Nous prouvons également qu'une ouverture du commerce amène à moins d'entrée dans l'industrie. Nos résultats clarifient des points importants dans une littérature en plein développement.
Fichier principal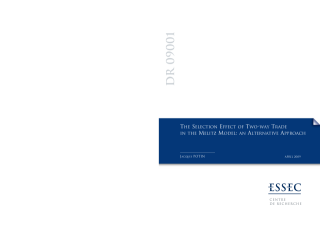 09001_Potin.pdf (582.51 Ko)
Télécharger le fichier
Origin : Publisher files allowed on an open archive