Femmes dans les conseils d'administration en France Quelques considérations sur leur intégration et leur visibilité
A guidance and food for thought on the issue that challenges French Boards and the society, due to the law establishing quotas of female administrators on boards. We will try to identify several conditions to be able to change the actual power mix, to move on towards more added value on boards. The question of visibility and reputation is a key one: where are these female candidates? The purpose of this study will try a focused reflection on visibility and particularly on the social media usages as a new tool to build reputation. Feminization of the boards is now required by law in France and is subject of debate in Europe. Beyond the demand of social equity, diversity, is an economic efficiency factor, creating value and adding performance. However it still a challenge. It is then useful to look over the best practices that can change the situation: from targeted trainings to the techniques of support, through the issue of assumed visibility of women candidates to executive positions in particular on the social media and by the commitment of the corporate management. Leveraging feminization must be a change enabler, bringing more diversity and professionalism to boards and decision making structures ( COMEX). It is thus a question of promoting the right tools which allow women to bring their added value, in terms of skills and "feminine" values . This is to allow corporates to have a diverse pool of profiles to find female board members giving a chance to the " transplant" success and build a renewed board team for more performance.
Enrichir la réflexion sur la question de la mixité qui interpelle désormais les Conseils d'Administration et de Surveillance, et au-delà la société, en tentant d'identifier les différents outils susceptibles d'être utilisés concrètement pour faire évoluer la situation en matière de mixité du pouvoir, tel est l'objet de cette recherche. Nous nous interrogerons sur le phénomène de mixité induit par la récente loi dite de féminisation et les conditions qui permettront que celle-ci soit un réel facteur d'efficience pour les conseils. Nous tenterons une réflexion ciblée sur la question de la visibilité des femmes candidates, car la question du vivier de recrutement potentiel reste posée, parmi les outils de notoriété, l'usage des réseaux sociaux semble innovante et tout particulièrement intéressante et requiert une maitrise de l'outil. La féminisation des CA est désormais légalement requise en France et fait l'objet d'un débat en Europe. Exigence d'équité sociétale certes mais aussi facteur d'efficience économique puisque la diversité crée de la performance ; elle constitue cependant encore un défi. Il est alors utile de se pencher sur les bonnes pratiques qui permettent de faire évoluer la situation : des formations ciblées aux techniques d'accompagnement en passant par la question de la visibilité assumée des femmes candidates aux postes de pouvoir notamment sur les réseaux sociaux, et par l'engagement de la direction des entreprises. Le levier de la féminisation doit être vecteur de changement et permettre d'apporter aux CA et aux structures de décision (COMEX...) plus de diversité et de professionnalisme. Il s'agit donc de promouvoir les outils qui permettent aux femmes d'apporter leur valeur ajoutée, en termes de compétences et de valeurs " féminines. Il s'agit de permettre aux entreprises de disposer d'un vivier de profils diversifié pour trouver les femmes AdministrateurEs qui permettent à la " greffe de prendre " et de constituer une équipe renouvelée au sein d'un CA pour plus de performance.
Fichier principal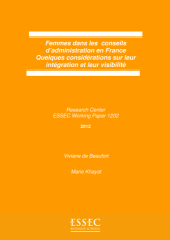 WP1202.pdf (439.19 Ko)
Télécharger le fichier
Origin : Files produced by the author(s)