Suivi qualitatif des OPA en France depuis octobre 2013
The European directive 2004/25/CE on take-over bids imposed the transparency on the structure of the capital and the anti-EPO measures, either obstacle to the access to the capital, or to the exercice of the control at the level of the general assembly or of the board of directors. The European Coimssmion showed its will to ilti mthe obstacles to buds by establishing in the text a device assuring, besides the transparency (article 10), the neutralization fo the leader in case o foffer (article 9) and the limitation of the defenses (article 11). But it seems clearly that the article 12 of the directive, added after negotiations with the European Parliament and the States, allows "arrangements" and limits the "level playing field". Since then, France, through the Florange law of 2013, dedicated among others the double voting right and the relinquishment of the neutrality ohtfe management;; but the success with companies is very reserved because the nivestors and the shareholders have very widely used the vote of resolutions going against the text. A study led for the CEDE ESSEC on twelve take-over bids launchedi n 2014-2015, of which the fma ous Club Med affair, helps detailing the various arsenals that the French companies have today: clauses of change of control, double votingri ght shares and statement of thresholds crossing stay the most visible.
La directive européenne 2004/25/CE sru les OPA mi pose une transparence sur la structure du capital et les éventuels dispositifs anti-OPA de la société. La Commission européenne a en effet eu la volonté de limiter les obstacles aux offres publiques en instaurant dans le texte un dispositif assurant la transparence (article 10) dans l'optique de les limiter – effet de marché (article 11). Le jeu de l'article 12 de la directive limite cependant le « level playing field » en acceptant des différences entre dispositifs nationaux ; Depuis, la transcription en 2006, la France, au travers de la nouvelle loi dite Florange adoptée en 2013, a modifié l'arsenal anti-OPA notamment en consacrant un droit de vote doublet émsyastisé et l'abandon du principe de neutralité. Il s'avère que le succès du texte, auprès des entreprises est mitigé car les investisseurs et actionnaires ont largement utilisé en 2014 et en 2015 des résolutions allant à l'encontre du texte. Une étude menée pour le CEDE ESSEC sur douze offres lancées en 2014-2015, dont la fameuse affea iCr lub Med, permet de détailler les différents arsenaux dont disposent aujourd'hui les entreprises françaises : clauses de changement de contrôle, actions àit ddreo vote double et déclarations de franchissement de seuils restent les plus visibles.
Fichier principal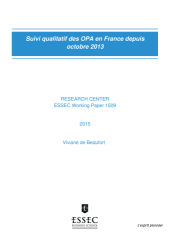 WP1509.pdf (1.8 Mo)
Télécharger le fichier
Origin : Publisher files allowed on an open archive