Approche comparative des dispositifs anti-OPA sur un échantillon de 139 entreprises émanant de 15 Etat Membres
Comparison of rules and practices between European countries which measures the effect of the Directive of 2004. The text put some essential principles (neutrality of the management (article 9), limitation of anti-takeover devices (article 11) and requirement of transparency (article 10) but giving in to States, establish an opting-out (article 12) allowing the member states to choose more or less their system. It is possible to distinguish four groups of countries: the Balts (the most liberal), the countries Anglo-Saxon which dedicate the neutrality of the management but keep (preserve) certain preventive devices (plans), the Rhenish group where the logic of collective governance prevails thus tolerating prevention and reaction, and finally, the Latin of which France which did not opt clearly for a system "every shareholder" or a "collective logic", with as a bonus a complex regulations and unstable choices of companies.
Exercice de comparaison des règles et pratiques entre pays européens qui mesure l'effet utile de la Directive de 2004. Le texte a posé quelques principes essentiels (neutralité du management (article 9), limitation des dispositifs anti-OPA préventifs (article 11) et exigence de transparence (article 10)) mais cédant aux Etats, instaure un opting-out (article 12) permettant aux Etats Membres de choisir plus ou moins leurs dispositifs. En fonction des transpositions intervenues, il est possible de distinguer quatre groupes de pays: les Baltes (les plus libéraux), les pays anglo-saxon qui consacrent la neutralité du management mais conservent certains dispositifs préventifs, le groupe rhénan où la logique de gouvernance collective prévaut tolérant donc prévention et réaction, et enfin, les latins dont la France qui n'a pas opté clairement pour un système « tout actionnaire » ou « logique collective », avec à la clé une réglementation complexe et des choix d'entreprises mouvants.
Fichier principal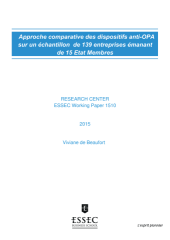 WP1510.pdf (4.97 Mo)
Télécharger le fichier
Origin : Publisher files allowed on an open archive