Relational Capability : An Indicator of Collective Empowerment
We define a new index for the collective empowerment of populations based on the capability of actors to have relationships and to enter into networks. This index, called "relational capability" (RC), is dynamic in the sense that the weights of its various components vary across time according to how close the population is to some poverty threshold. It relies on a shift of anthropological viewpoint, putting human relationships at the forefront. RC, which can be formalized in gametheoretic terms of networks, paves the way towards the solution of a number of unsolved issues: Reconciling autonomy and interdependence; unifying the aggregation of individual characteristics with the collective level; questioning unjust institutions and political structures within Sen's and Nussbaum's framework of capabilities.
Nous définissons un nouvel indicateur de l'empowerment collectif des populations, basé sur la capacité des acteurs à entrer en relation et à participer à des réseaux. Cet indicateur de " capacité relationnelle " (RC) est dynamique au sens où les pondérations attribuées à ses composantes varient dans le temps selon la façon dont une population se rapproche d'un certain seuil de pauvreté. Elle se fonde sur un changement de perspective anthropologique, qui place les relations humaines au premier plan. La capacité relationnelle, qui peut être formalisée selon le modèle de la théorie des jeux appliquée aux réseaux, ouvre des perspectives de résolution de plusieurs problèmes : réconcilier l'autonomie et l'interdépendance ; unifier l'agrégation des caractéristiques individuelles avec le niveau collectif ; mettre en question les institutions et les structures politiques injustes, dans le cadre de l'approche des capacités définie par Sen et Nussbaum.
Fichier principal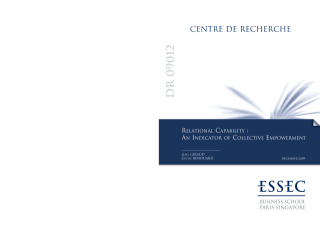 09-012.pdf (1.11 Mo)
Télécharger le fichier
Origin : Publisher files allowed on an open archive