Can Rumors and Other Uninformative Messages Cause Illiquidity ?
This paper analyzes whether false information, rumors and other uninformative messages can cause illiquidity. In the model, a group of investors are invited to participate to a high-yield collective project. The project succeeds only if a minimum participation rate is reached. Before taking their decision, investors receive an uninformative but emotion loaded message. If investors believe that the message has an impact on the beliefs of the others, the problem can be analyzed as a typical global game. We solve the model for the critical message separating the success / fail states of the project. It turns out that lesser investors will participate to the collective project when they receive a negative message as compared to the case when they receive a positive message. Predictions of the theoretical model are corroborated by data provided by an Online and a Lab experiment. Insights apply to contagion and market manipulation episodes.
L'article étudie si des rumeurs sans aucun rapport avec la valeur fondamentale peuvent provoquer des crises d'illiqudité. La première partie présente un modèle théorique, où les investisseurs peuvent utiliser le message non-informatif pour coordonner la décision d'investir dans un projet collectif qui peut réussir uniquement si un seuil minimal de participation est atteint; l'équilibre étudié est celui d'un global game avec n-joueurs, dont la solution a été proposée par Morris and Shinn (1998). Le taux de participation est bas si les investisseurs reçoivent un message " négatif " et vice-versa. La seconde partie de l'article restitue les résultats de deux expériences, l'une conduite par Internet, l'autre dans le laboratoire expérimental de l'ESSEC Business School. Les deux tests corroborent les prédictions du modèle théorique. L'analyse permet d'envisager une nouvelle explication pour la propagation des crises financières d'un pays à l'autre, ou d'un marché à l'autre sans raison apparente.
Fichier principal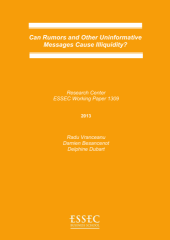 WP1309.pdf (709.85 Ko)
Télécharger le fichier
Origin : Publisher files allowed on an open archive