Approche comparée des dispositifs anti-OPA en Europe à la lumière de la directive sur les OPA
The European directive 2004/25/CE on take-over bids imposed the transparency on the structure of the capital and the anti-EPO measures, either obstacles to the access to the capital, or to the exercice of the control at the level of the general asssembly or of the board of directors. The comparative law allows to establish that countries tolerate this outfit o f "poison pill"s in diveres ways according to their tradition of governance. Among European countries, four models can be distinguished, from the most open to thmeo st closed. The European Commission showed its will to harmonize the defenses and to limit the obstacles to buds by establishing in the text a device assuring, besides the transparency (article 10), the neutralization of the leader in case of offer (article 9) and the limitation of the defenses (article 11). But it seems clearly that the article 12 of the directive, added after negotiations with the European Parliament and the States, allosw "arrangements" and limits the "level playing field". Since then, France, through the Florange law of 2013, dedicated among others the double voting right and the relinquishment of the neutrality of the management; but the success with companies is very reserved because the investors and the shareholders have very widely used the vote of resolutions going against the text.
La directive européenne 2004/25/CE sur les OPA a imposé la transparence sur la structure du capital et les dispositifs anti-OPA, qu'ils soient des obstacles à l'accès au capital, à l'exercice du contrôle au niveau de l'assemblée générale ou du conseil d'administration. La comparaison en droit permet d'établir que les pays tolèrent ou non cette panoplie de « poison pills » de manière diverse en fonction de leur tradition de gouvernance. Quatre modèles peuvent être ainsi distingués regroupant les Etats membres de l'Union Européenne des plus ouverts au plus fermés. La Commission européenne a montré sa volonté d'harmoniser les défenses et de limiter les obstacles aux offres publiques en instaurant dans le texte un dispositif assurant outre la transparence (article 10), la neutralisation du dirigeant en cas d'offre (article 9) et la limitation des défenses (article 11). Mais il apparait clairement que l'article 12 de la directive ajouté après des négociations avec le Parlement européen et les Etats permet des « arrangements » et limite le « level playing field ». Depuis, la France, au travers de la loi Florange de 2013, a consacré entre autres le droit de vote double et l'abandon de la neutralité de la direction ; mais le succès auprès des entreprises est très mitigé car les investisseurs et actionnaires ont très largement utilisé le vote de résolutions allant à l'encontre du texte.
Fichier principal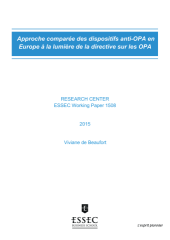 WP1508.pdf (725.72 Ko)
Télécharger le fichier
Origin : Publisher files allowed on an open archive