L'impact de l'obsolescence perçue des biens durables sur la décision de remplacement et la destinée de l'objet remplacé
This research aims to understand, define and measure the perceived obsolescence of durable goods. A qualitative study of 10 people followed by three quantitative studies of 765 people made it possible to i) define the obsolescence of a durable good owned by a consumer as his/her perception that there is a better product on the market; (ii) to measure its technological, social, ecological, market and technological dimensions and (iii) to understand its antecedents and its consequence on the intention to replace a product, as well as the destiny of the replaced product. The theoretical contributions as well as the societal and managerial implications are then discussed.
Cette recherche vise à comprendre, définir et mesurer l'obsolescence perçue des objets dans le domaine des biens durables (OPP). Une étude qualitative auprès de 10 personnes suivie de trois études quantitatives auprès de 765 personnes ont permis de i) définir l'OPP comme la perception du consommateur qu'il existe un produit meilleur que le sien sur le marché; ii) mesurer ses dimensions technologique, sociale, écologique, marchande et technologique et iii) comprendre ses antécédents et les conséquences sur l'intention de remplacer un produit, ainsi que sur la destinée de l'objet remplacé. Les résultats sont mis en perspective de la théorie ainsi que des implications sociétales et managériales.
Fichier principal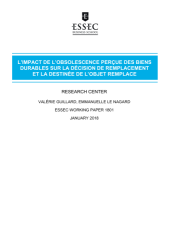 WP1801.pdf (1.12 Mo)
Télécharger le fichier
Origin : Files produced by the author(s)